I was brushing up on sorting algorithms and came across this one whose goal is to kill turtles. How uncouth!
Speaking of turtles, I've received two comments on dealing with TortoiseSVN's terrible caching program. sawce replaced its executable with a dummy that exits on startup. Damaged Soul says simply removing the executable does the job as well.
Not speaking of turtles, I think I may have to start a new segment on "disappointing software." My Motorola Q decided to format itself this week, and I had to reinstall everything. The first thing that I always install after wiping my smartphone is a program to play Go. Go is extremely difficult for computers to play, so I don't expect much from an embedded processor. The best program I've found so far (that works) has been Pocket GNU Go.
I always forget its name though, so while searching for it I found a (relatively new?) program called Go Mobile. It bragged about having good graphics so I tried it out. By the third move or so it seemed to crap out. I don't have a screenshot but the move looked like this (the triangled white piece):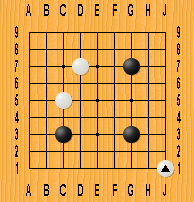 To make a Chess comparison, that move is like skipping your turn and then giving a random piece to your opponent. If you're going to make a Go program but you don't want to bother writing playable AI for it, why not embed one of the existing solutions?
The lack of good pocket programs for Go is disappointing. Even the GNU Go port I use is very old, it's an entire major release out of date with the PC version. Contrast — about seven years ago I had a Palm 3 (black and white, 2MB of RAM) that had an amazingly complete chess program.