It's been a year or so since I fired up Steam to actually try and play a game. Given that I help maintain multiple mods for Valve games, that might seem surprising.
I love the concept of Steam, I've had it installed since the early betas, and I hated the days of scouring for files like "10161100.exe" to update Half-Life 1. But the actual software is so mind-bogglingly annoying. I cringe when I hear Steam fanboys tout it as the shining jewel in content distribution.
To demonstrate, I recently got a desktop and decided to try playing a game I paid for on Steam. I downloaded Steam, installed it, and instantly got bombarded with stuff like this: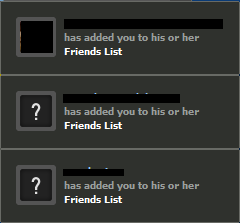 These three things would slide down, then three more would pop up. Rinse and repeat every few seconds. Really annoying. I have Steam Friends completely pref'd off on my laptop, but I guess Steam doesn't sync account settings across computers. I'd rather not disable Steam Friends completely, but of the three options to disable notifications, none seem related to the ones up above. So I pref'd Friends off. The little messages kept coming though, until the whole list of notifications was exhausted.
Later I came back and tried to install a game. It said "Your Steam ticket has expired" and asked for my password. I typed it in, and nothing happened. The dialog disappeared but the game wasn't downloading. I double-clicked the game to try again. It asked for my password again, but no-go.
I tried this a few more times, then restarted Steam. When it started back up, all of the icons were missing: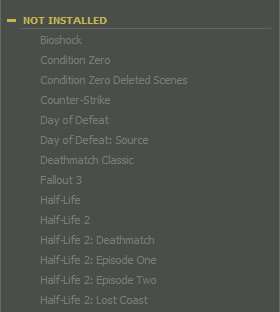 Okay, that's weird. I double-clicked the game again, and I still got the expired ticket dialog box. I typed in my password again, but this time selected "Remember my password". The game didn't start installing, but the icons appeared.
I tried installing again, and now I got a new dialog box: "The Steam servers are currently too busy to handle your request." Huh? The next try got me back to the password entry dialog box because my "Steam ticket" had expired again.
I searched Google and found a Steam forum thread describing my problem. Another thread linked from comment #11 said to try deleting "ClientRegistry.blob", and if that doesn't work, reinstall Steam.
So I exited Steam, deleted "C:\Program Files (x86)\Steam\ClientRegistry.blob", and restarted. When I tried installing the game, I actually got a progress bar. By the time it had finished downloading I'd moved on to other things, but at least next time I'm in the mood to play a game on Steam, I know to delete random internal files.
This product… needs polishing.